If you are looking for the Ultimate Guide to Mickey's Not So Scary Halloween Party with 2020 Dates, Tips, and Sample Itineraries – you've found it!
When you are making plans to attend the 2020 Mickey's Not So Scary Halloween Party, you'll want to know the best way to do all the special things being offered with your party ticket.
Special features of the party include a spook-tastic parade and an eerie extravaganza of fireworks. These Guest favorites are also returning "Mickey's Boo-to-You Halloween Parade," "Hocus Pocus Villain Spelltacular," and "Disney's Not-So-Spooky Spectacular" fireworks.
For 37 nights this fall, the Magic Kingdom will transform into party central for Mickey's Not So Scary Halloween Party.
The Magic Kingdom closes early on party nights and guests need the special party tickets to enjoy the festivities. Guests visiting the Magic Kingdom earlier in the day will be guided to exit the park beginning at 6 pm.
Officially, the party kicks off at 7 pm and party guests will need the party wristbands to participate in the fun.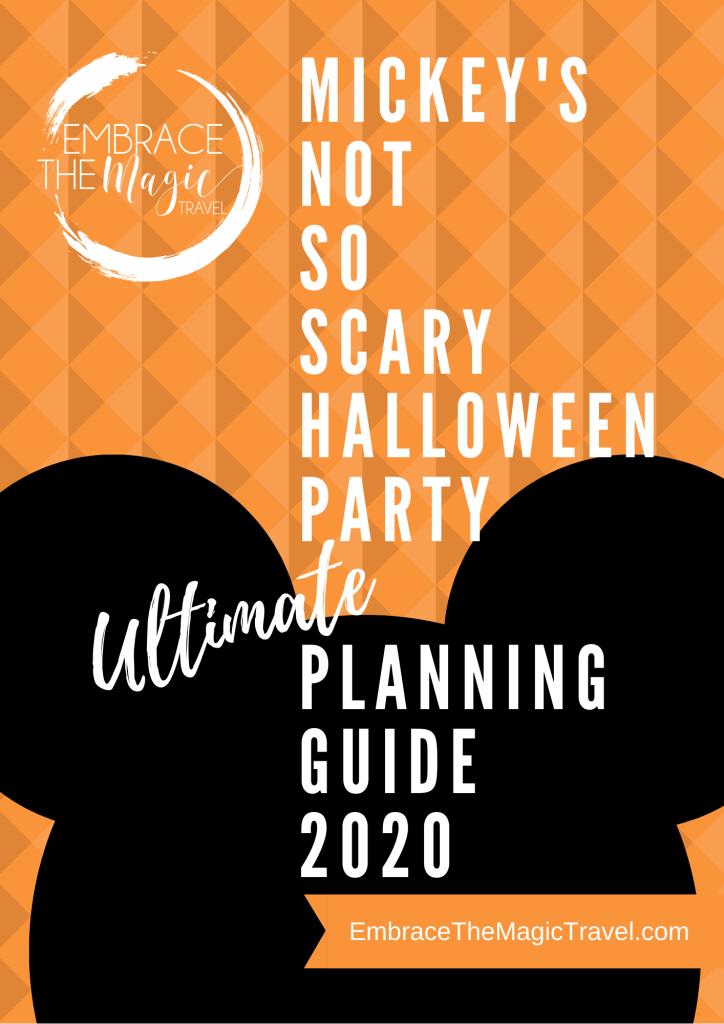 Mickey's Not So Scary Halloween Party Ultimate Planning Guide Quicklinks
2020 Mickey's Not So Scary Halloween Dates
Dates, Tickets, and Pricing
Mickey's Not So Scary Halloween Party is perfect for children and adults of all ages. Guests ages 3+ will need a special party ticket for entrance into the event located at the Magic Kingdom Park.
Disney World released the tickets in February this year. You can purchase the tickets with Embrace The Magic Travel, on your My Disney Experience App, or by calling Disney directly.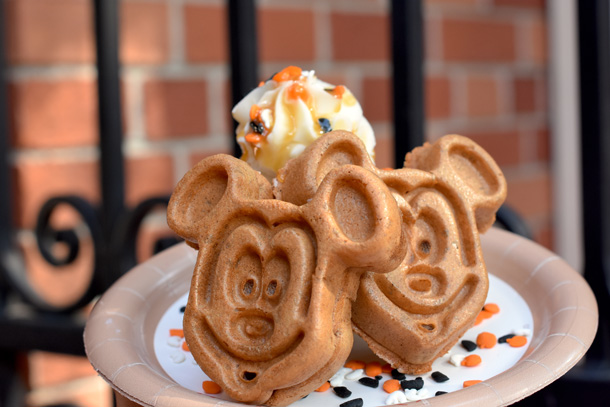 2020 Mickey's Not So Scary Halloween Party Dates
August 13, 18, 21, 25, 28
September 1, 4, 7, 11, 13, 15, 18, 20, 22, 25, 27, 29
October 1, 2, 4, 6, 8, 9, 12, 13, 14, 15, 16, 18, 20, 22, 23, 25, 27, 29, 31
November 1
---

---
Ticket Prices
2020 MNSSHP tickets may be purchased ahead of time or on the day of the party (while supplies last). Pricing ranges from $85-$149 (+tax) per adult and $80-$144 (+tax) per child ages 3-9 based on the date you attend.
Ticket Discounts
Discounts are available when you purchase your party tickets at least one day in advance. Excluding the October 31st party.

Annual Passholder and DVC (Disney Vacation Club) owners also may enjoy a small discount on select dates.

Best Nights to Attend the Party
When planning your trip to Walt Disney World, you'll want to choose the best night for your family to attend the party. You'll also want to be sure to take into account the party nights while planning the rest of your park days.
Party Nights
Party nights vary by month. There are no party nights on Wednesdays or Saturdays (except Halloween Night Saturday, 10/31).
August nights include select Tuesdays and Fridays (plus the first party night on Thursday, 8/13)
September nights include most Sundays, Labor Day Monday, plus select Tuesdays and Fridays
October nights include select Sundays, Monday, 10/12, plus all Tuesdays, Thursdays and Fridays (except Fri, 10/30)
November 1st is a Sunday

Usually, the first party night and Halloween night sell out early. In general, October Friday nights are popular with locals and the last party nights around Halloween – October 29 and November 1st are also very popular nights and may reach full capacity.

The party nights happen rain or shine, so if you purchase your tickets ahead of time, plan the appropriate adjustments (ponchos, costume modifications, etc) to enjoy the party.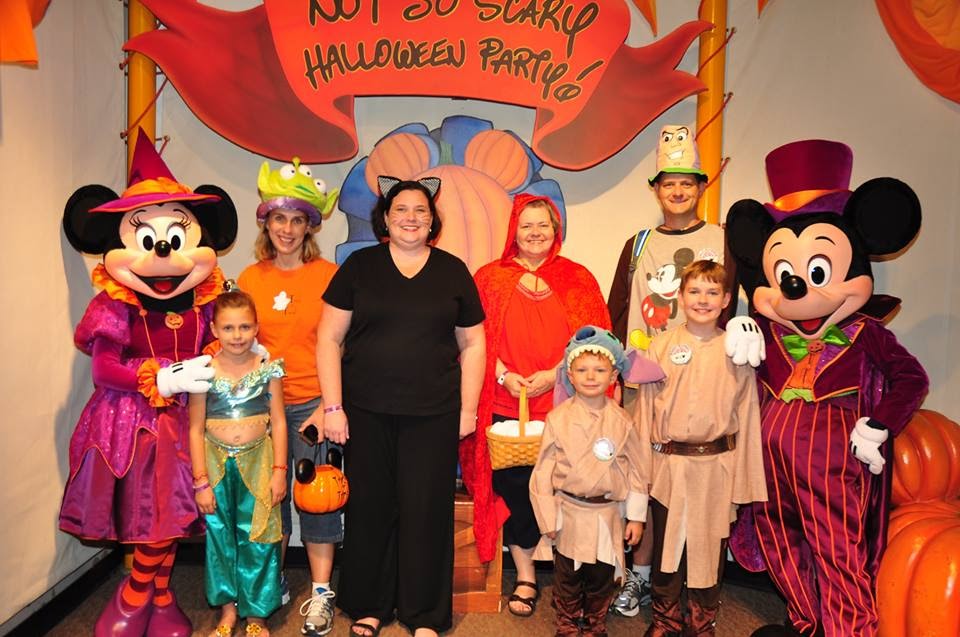 Mickey's Not So Scary Halloween Party Costume Policy
Dressing up is half the fun! Be it matching t-shirts, fun mouse ears with a Halloween twist, Disney bounding, or traditional costumes you'll add excitement to your evening as you and those around you celebrate the season. You'll want to make sure you follow Disney World's costume policy in order to enter and be safe at the party.

Disney World's costume policy has changed over the past few years and has become more restrictive over time.

Here's the current policy.

General Costume Guidelines for Mickey's Not So Scary Halloween Party
Disney may deny admission to or remove any person wearing attire that is considered inappropriate or could detract from other guests' experiences.
Guests may dress as their favorite character, but may not pose for pictures or sign autographs for other guests.
Costumes must be family-friendly and not be obstructive, offensive, objectionable or violent.
Costumes may not contain any weapons that resemble or could easily be mistaken for an actual weapon.
Costumes may not contain sharp objects, pointed objects or materials that may accidentally strike another guest.
Guests who do not adhere to these guidelines may be refused entry into, and/or removed from, the park unless his or her costume can be modified to acceptable standards.
Guests ages 14 and over
Layered costumes or costume props that surround the entire body are strongly discouraged and may be subject to additional security screening.
Costumes may not reach or drag on the ground.
Capes may be worn if the length does not go below the waist.
Themed T-shirts, shirts, sweatshirts and hats are acceptable.
Transparent wings, plastic light sabers, toy swords, and tutus are acceptable accessories. Headwear may not cover the face.
Masks may not be worn.
Guests ages 13 and under
Costumes and some masks may be worn. Masks cannot cover the entire face.
All rules and regulations are subject to change without notice.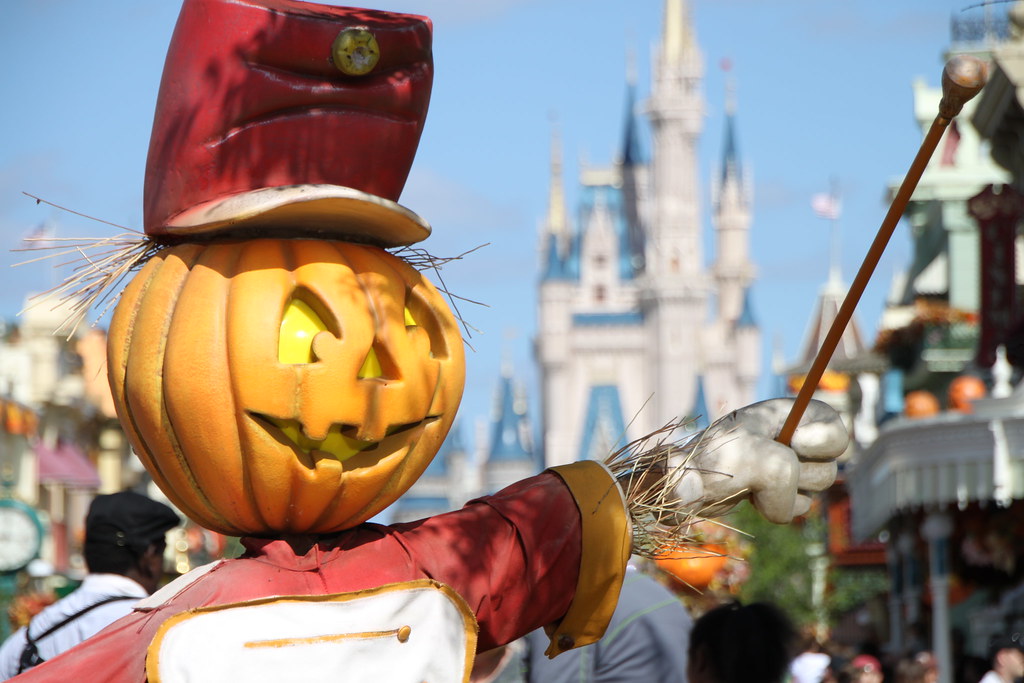 Entering the Party
Officially the party is five hours long, party hours are from 7 pm – midnight. Once you arrive at the Magic Kingdom (and pass through security), look for the exclusive party entrance queue at the front gate. Party wristbands are distributed just inside the gate. Official party maps are available in the vestibule as you walk toward Main Street U.S.A.

Guests visiting the Magic Kingdom during a party day will be guided to exit the park around 6 pm. As a party-goer, you will not need to exit and reenter the park. Instead, visit one of the select locations in the park where party wristbands will be distributed. Show your valid party ticket to secure your wristband.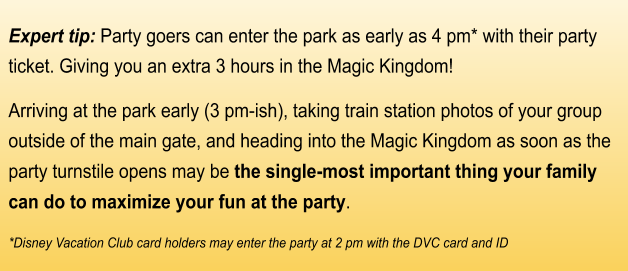 Grand Entrance to the Party
Arriving for the party just in time for the festivities? You'll be directed to the right, towards Market Street, the back alley between La Chapeau and Tony's Town Square Restaurant. Fun photo-ops, treat bag distribution, and the first Trick or Treat candy station is located here. Market Street stays open until 8 pm.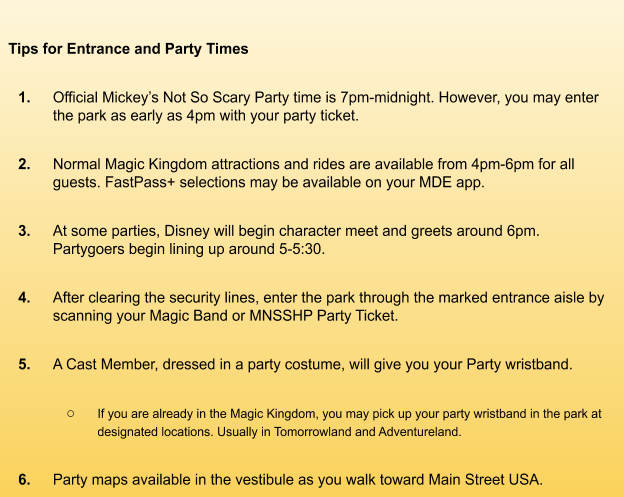 Entertainment, Rides, and FastPass+
Entertainment Show Times (subject to change)
Mickey's "Boo-To-You" Halloween Parade – 9:15 pm and 11:15 pm
Disney's Not-So-Spooky Spectacular Fireworks – 10:15 pm
Hocus Pocus Villain Spelltacular – 8:30 pm, 10:45 pm and 12:00 am
Mickey's "Boo-To-You" Halloween Parade
9:15 pm & 11:15 pm
Shuffle, creep or crawl to the parade filled with silly–not–scary surprises. Spot your favorite Disney Characters in their costumes. And look closely, you might just see the Headless Horseman ride off into the night!

Disney's Not-So-Spooky Spectacular Fireworks
10:15 pm
Jack Skellington from Tim Burton's "The Nightmare Before Christmas" serves as the host of this all-new nighttime extravaganza, with state-of-the-art projection effects, lasers, lighting and dazzling fireworks filling the sky above Magic Kingdom® Park.
Jack has come to tell a not-so-scary story about how anything can happen on Halloween night. Jack's ghost dog, Zero, then flies off carrying everyone along on a trick-or-treating adventure, where four friends – Mickey, Minnie, Donald and Goofy – find themselves drawn into a mysterious haunted house.
Their journey takes them from one room of the house to another, encountering dancing skeletons, waltzing ghosts and a whole series of troublemaking Disney villains. "Disney's Not-So-Spooky Spectacular" promises to be the perfect Halloween treat!

Hocus Pocus Villain Spelltacular
8:30 pm, 10:45 pm, 12:00 am
Join the Sanderson Sisters and some of their fiendish friends as they conjure up a spellbinding Hocus Pocus Party at Cinderella Castle.
Dance Parties & More
Monstrous Scream-O-Ween Ball
Join Mike Wazowski and Sulley for this monstrously fun dance party!
Storybook Circus Disney Junior Jam
ance the night away with some of your favorite Disney Junior Characters! NEW FOR 2019 ~ Nancy Clancy from the hit Disney Junior series "Fancy Nancy" joins other Disney Junior pals like Vampirina and Doc McStuffins.
The Cadaver Dans Barbershop Quartet
The undead barbershop quartet known as the Cadaver Dans performing spooky songs a capella style. Find this Dapper Dans-style "band" in Frontierland! They'll have you howling in laughter with their "dead pan" humor.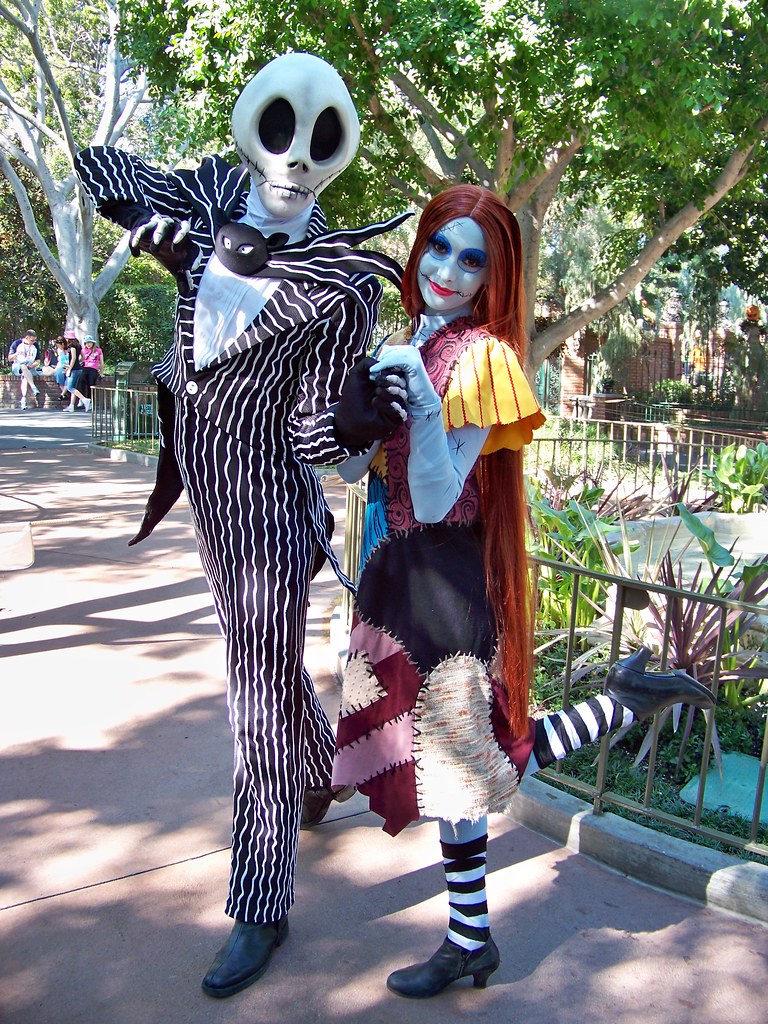 Character Locations
Main Street U.S.A.
Adventureland
Aladdin, Jasmine, Abu, Genie, Jafar
Tarzan, Jane, Terk
MoanaCaptain Jack Sparrow
Frontierland
Liberty Square
Jack Skellington, Sally
The Gravediggers
Tomorrowland
Elvis Stitch
Lots-o'-Huggin' Bear
Fantasyland
Anastasia, Drizella
Cinderella
Cruella DeVil
Daisy
Donald
Alice, Mad Hatter
Belle, Gaston
Ariel, Eric
Pooh, Tigger, Eeyore, Piglet
Minnie Mouse
Princess Elena
Princess Tiana
Queen of Hearts, Tweedles
Rapunzel
Seven Dwarfs
Rides & Attractions
Main Street U.S.A. – Sorcerers of the Magic Kingdom, Town Square Theater
Adventureland – Swiss Family Treehouse, The Magic Carpets of Aladdin, Pirates of the Caribbean
Frontierland – Splash Mountain, Big Thunder Mountain
Liberty Square – Haunted Mansion
Fantasyland – 'it's a small world', Peter Pan's Flight, Prince Charming Regal Carrousel, Under the Sea-Journey of the Little Mermaid, The Barnstormer, Dumbo the Flying Elephant, Mad Tea Party, The Many Adventures of Winnie the Pooh, Seven Dwarfs Mine Train, Princess Fairytale Hall
Tomorrowland – Tomorrowland Speedway, Space Mountain, Astro Orbiter, Tomorrowland Transit Authority PeopleMover, Buzz Lightyear's Space Ranger Spin
2019 Halloween Fun!
this section to be updated when more 2020 information become available
Several attractions across the park receive special enhancements just for the Halloween party! New this year, when your family follows the treat trail into the Monster World at Monsters Inc. Laugh Floor, they'll interact in all-new ways with the comic cast of monsters, as they learn about the curious Human World holiday we call Halloween.
Embarking upon the high seas with the Pirates of the Caribbean, your family will discover a crew of live pirates on your journey, engaged in a whole new adventure in search of treasure.
Space Mountain goes completely dark again this year, hurtling your family through the blackness of deep space to the riffs and chords of a new hard-rockin' soundtrack, and at the Mad Tea Party in Fantasyland, each spin of the teacups takes guests into madder and madder territory, as special lighting and music give the attraction experience an extra energy after dark.
A word about FastPass+
FastPass+ selections are not available during the regular party times 7 pm -midnight, however, you may be able to get them between 4 -6 or 7 pm.
Disney has changed the FastPass+ system "rules" around party nights over the last few years. Currently the most successful way to secure FP+ for party nights is to select them AFTER you have chosen your FastPass+ selections for all other ticketed days.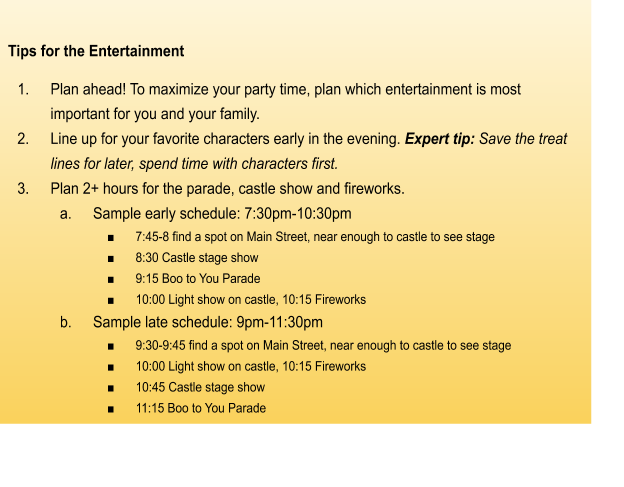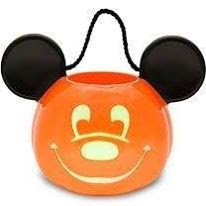 Trick or Treating and Specialty Party Food
Looking forward to Trick or Treating Disney Style? Cast Members will distribute a handled plastic bag(s) for you to collect your treats or you may bring your own. The Cast Members are generous with the candy and they will not run out. Treat stops are located throughout the Magic Kingdom and are marked on the party map.

Trick or Treating Locations
Main Street U.S.A. – Market Street (open until 8 pm)
Adventureland – Pirates of the Caribbean & Jungle Cruise
Frontierland – Splash Mountain, Dock to Tom Sawyer Island, & Country Bear Jamboree
Liberty Square – Columbia Harbour House
Fantasyland – Mickey's PhilharMagic, Ariel's Grotto, Pinocchio Village Haus, & Walt Disney World Railroad Station
Tomorrowland – Monsters, Inc. Laugh Floor, Cosmic Ray's Starlight Cafe, & Walt Disney's Carousel of Progress
Allergy-Friendly Fun
If you have a food allergy, please see a Cast Member to pick up a teal-colored treat bag. When you trick-or-treat with your teal bag, you'll receive a teal token at the treat stations. Later on, you can redeem these teal tokens at the Allergy-Friendly Centers for special treats!

Allergy Friendly Centers
Main Street, U.S.A. – Town Square Theater
Liberty Square – Liberty Square Ticket Office

Specialty Party Food
As you make your way around the park, enjoy some delicious party exclusive treats available at a variety of Quick Service and kiosk locations.
MNSSHP Popcorn Bucket
Walt Disney World Resort Halloween Premium and Base Popcorn Buckets were refillable at the parks during your length of stay for $2 per refill.
Dining
Of course, you'll want to try some of the yummy party food. Since your time during the party is limited, consider your dining plans carefully. Many families eat dinner before entering the party and then snack their way around the Magic Kingdom on the evening of the party.
Quick Service Restaurants open during the party:
Main Street Bakery
Plaza Ice Cream Parlor
Casey's Corner*
Aloha Isle*
Golden Oak Outpost
Pecos Bill Tall Tale Inn and Cafe*
Sleepy Hollow
Liberty Square Market
Columbia Harbour House*
Gaston's Tavern
The Friar's Nook
Storybook Treats
Cosmic Ray's Starlight Cafe*
Auntie Gravity's Galactic Goodies
The Lunching Pad*
Note: The restaurants will close a various times during the evening. Check the party map for closing times.

Table Service Restaurants:
Cinderellas' Royal Table, Be Our Guest, and Crystal Palace
A Disney Villain your clients love to hate will be hosting her own festive and fabulous event during this year's Mickey's Not-So-Scary Halloween Party at Magic Kingdom® Park!

Specialty Add-ons
this section to be updated with 2020 information when available
Cruella's Halloween Hide-a-Way!
New in 2019, introducing Cruella's Halloween Hide-a-Way at Tony's Town Square Restaurant, the perfect place to mix and mingle with Cruella de Vil and be part of her circle of puppies, aka friends! Your family can enjoy a fun, festive atmosphere, with themed background music and décor, and a great view of Town Square.
Beginning at 9:30 p.m., you can pop in and out at your leisure and indulge in savory hors d'oeuvres with a taste from the Witches Cauldron—a kettle of gooey and creamy spinach dip with ciabatta crostini, assorted Halloween flatbreads and more! In addition, there will be sweet treats such as chocolate-dipped strawberries, cheesecake and mini cannoli, Kanine Krunchy cake and Mini De Vil brownies and a variety of beverages including beer and wine selections and more!
But the party doesn't stop there! You'll have access to a special reserved viewing area – located in the circle of Main Street USA circle by the flag pole – for the truly enchanting "Mickey's Boo-To-You" Halloween Parade at 11:15 p.m., featuring some of Cruella's villainous pals.
After the parade, the fun continues at Tony's where your family can hang out until 12:30 a.m.
$99 per person (plus tax) every Mickey's Not-So-Scary Halloween Party event night at Magic Kingdom Park.
Admission to Mickey's Not-So-Scary Halloween Party is required to attend. Seating is available for guests as they dine on a first come, first serve basis and shared seating is encouraged amongst guests to enjoy both the food and company the party has to offer.
Disney's Not-So-Spooky Spectacular Dessert Party
Only available on party nights, the Disney's Not-So-Spooky Spectacular Dessert Party is like the Tomorrowland Terrace Fireworks Dessert Party, with a Halloween twist. It begins with a Halloween themed dessert buffet and offers guests reserved viewing for the Disney's Not-So-Spooky Spectacular fireworks spectacular.

Previous HalloWishes Dessert Party pricing began at $69 adults and $41 for children. MNSSHP tickets required.

Exclusive Party Merchandise
During the party, Halloween themed and dated merchandise is available for purchase.
The best locations to find these items during the event is Emporium on Main Street, U.S.A. and Big Top Souvenirs in the Storybook Circus area of New Fantasyland. Frontier Trading Post in Frontierland will also offer the event pins, while Curtain Call Collectables will have costume pieces.
Party Map
this section to be updated with 2020 information when available
Magical Extras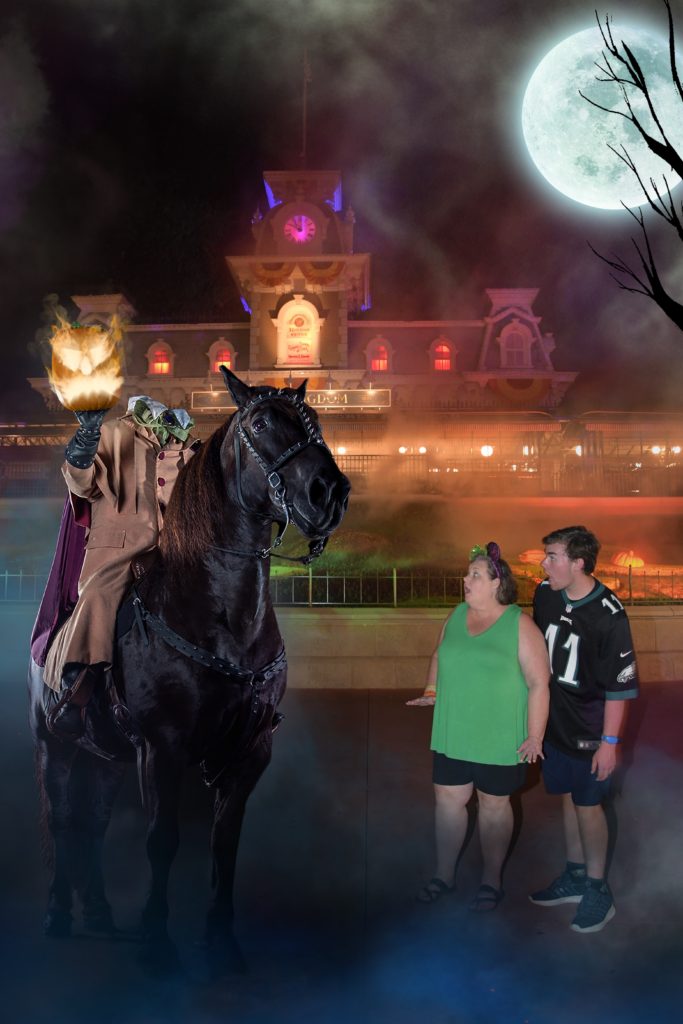 Magic Shots captured on PhotoPass
Over 30 Magic Shot locations and photo prop opportunities are available throughout the park – see the party map for exact locations. The grim grinning ghosts usually make an appearance, along with other favorites like the poisoned apple and the headless horseman.
Sorcerer of the Magic Kingdom Party Cards
My family loves Mickey's Not So Scary Halloween Party! We particularly enjoy seeing the Magic Kingdom decked out with the fall decorations and trick or treating throughout the park. My son always looks forward to collecting the Sorcerers of the Magic Kingdom party card too.
Every year, a new party card is released and available only by showing your party wristband to the Cast Member at the Firehouse on Main Street U.S.A.
Surprise your loved ones with this in-room Halloween Celebration.
Available from Disney Floral & Gifts, the Mickey's Halloween Celebration bundle is deliverable to your resort beginning August 2020.
Additional fee may apply.
The Candy Corn Cinch Sack is perfect for Trick or Treating during the party!
Mickey's Not So Scary Halloween Party Tips
The best way to start planning THIS YEARS trip is by looking at last year's trip!
My son and I posted LIVE in the Mickey's Not So Scary Halloween Party FaceBook group during our party night. You'll find how we did "all the things" we wanted to do and more during our party night: 31 Pro Tips.
Past MNSSHP Party Information
Other Magic Kingdom Special Events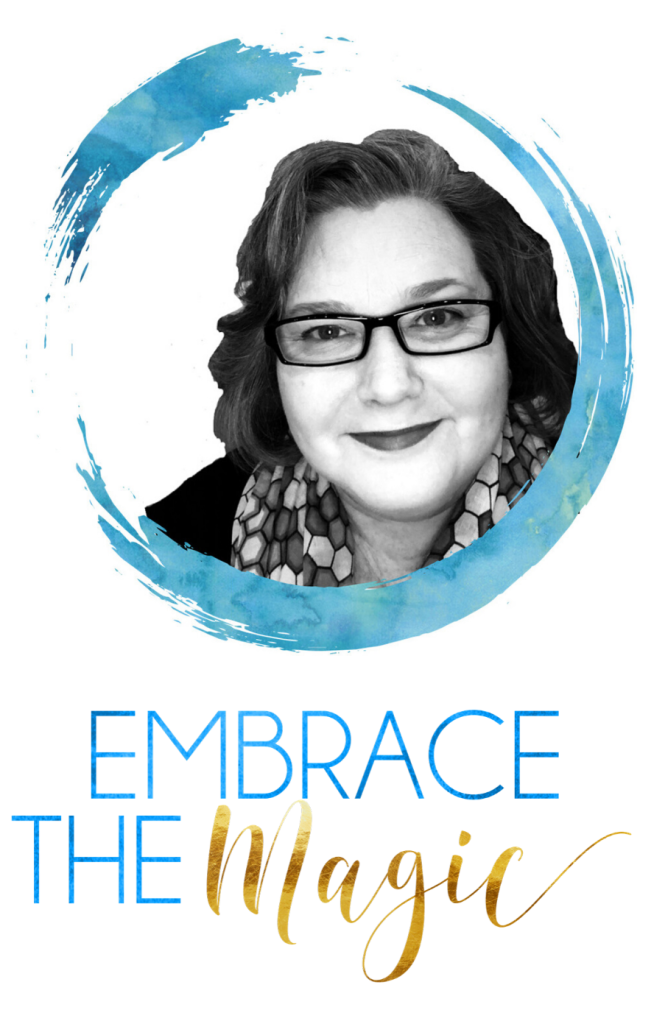 Let Us Help You in Planning an Amazing Family Vacation!
The expert travel advisors at Embrace The Magic Travel will work with you to create a perfectly planned trip for your family, making sure nothing is left to chance and helping you create lasting memories, deeper connections & richer experiences. Please submit an online consultation request to begin.